By Mo on December 8, 2013
Brrr, it's been cold lately. The more cold it gets, the more I dream of somewhere warm. Maybe it's because the memories of my November Tucson trip are still with me. Here are some of my favourite pictures from my last desert trip. The soft grey-greens and the texture of these shots are almost magical to me. I love the desert and this year it was a much needed trip. As many of you know it's been a rough year, so when my cousin asked if I wanted to go this November with her I jumped at the opportunity. Once again it was a wonderful experience, worth every hour of travel and penny. I'm using this moment to dip my toe back into blogging. Sorry it's been so long. Thanks so much for sticking with me.
Where do you dream of going when you're in need of a healing vacation?
PS – Did you notice my name change? There's more in the works coming soon.
Posted in Fall/Winter 2013, Mo' Funk Designs, nature, winter | Tagged colour, desert, fall/winter, Fall/Winter 2013, green, grey, holiday, nature, Tucson, vacation | Leave a response
By Mo on August 2, 2013
Just over 7 years ago I purchased my condo. It was a lot of work at the time & my parents helped me to get it ready with lots of sweat equity. Lately though I've been thinking I needed some updating. Why do we always leave the bedroom until last? In my case, almost last. In the last few years I've been inspired by white, white, white rooms accented with one dark wall. I can't see myself living with black, but maybe nearly black. A week ago I purchase one of Emily Jefford of Beautiful Hello's gorgeous oil paintings (above). I love the mood of this painting. As soon as I picked it I started dreaming about my new bedroom. I knew I could pick out my dark wall colour. Here are two possibilities from Benjamin Moore. I have almost everything else, the bed, dressers, and bedding. I can't decide on the carpet, but I'm thinking woven cotton (Dash and Albert) on top of my off white broadloom. There's also a black wool one from West Elm and another from Target too. I'd love two of these bracket wall lamps by Dino Sanchez, one on each side of the bed, but that's not certain. What do you think? Paint colour? Carpet?
I'm also going to paint an antique dresser I've acquired that has a tilting mirror on top, I have no idea what to call it. It's a leggy four drawer dresser that will be a nice counter balance for the more simple modern pieces. Should I paint it the expected white? Or choose a pickled look, a grey or a black painted finish?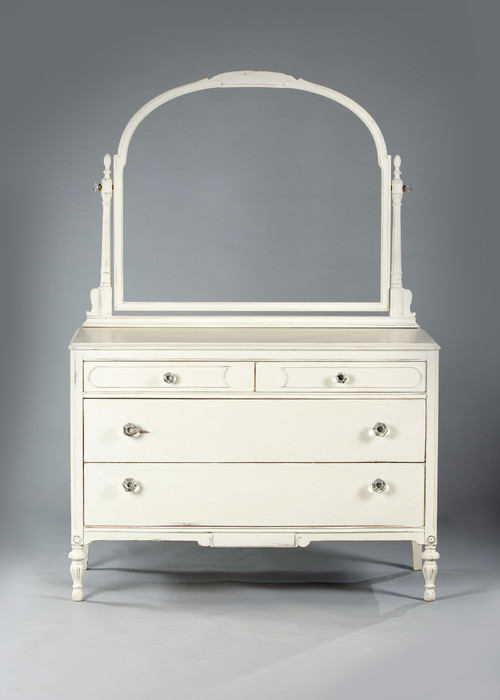 Eclectic Dressers Chests And Bedroom Armoires by Providence Furniture and Accessories Kingston Krafts
Emily is still painting a piece a day, so please drop by and have a look at the beautiful work she's creating.
Posted in Art, Blogs, home | Tagged antique, antique dresser, antique white dresser, art, Beautiful Hello, Benjamin Moore, blog, Dash and Albert, Dino Sanchez, Emily Jefford, Ikea, inspiration, painting, room inspiration, Target, West Elm, white dresser | 4 Responses
By Mo on July 16, 2013
It's summer and I'm home. While I'm home I try to spend as much time as possible with my best friend, her husband, and their assortment of animals on their beautiful property. They have worked so hard on their one acre lot, that in the beginning, was an empty piece of property neglected and stripped bare by horses. I've known them since the early years and am always so impressed with how much has changed and how much they've put into it; blood, sweat, and tears. The property is a combination of rehabilitated habitat to encourage and support wildlife and land used for sustainable organic food production. They've modelled the more purposefully used area on the principles of permaculture, basically intelligent design. For example the chicken roost shares space with the potting shed, so seedlings can enjoy some of the warmth given off by all those cozy hens. The majority of the garden is grown in raised beds that are situated on top of the septic field. The soil had to be sandy, which would have been nearly impossible to grow vegetables, so they created raised beds out of gabions, wire filled with loose rock, a perfect home for lizards, insects and garter snakes as well as vegetables.
Anywhere you look you'll see a beautiful combination of native flowering plants, some domestic plants, vegetables and herbs that are full of many varieties of pollinators, including their honey bees. If you turn around you'll see potatoes (above bottom right), kale, or garlic, peas, squash, or carrots. All of the vegetables are organically grow and most are heritage varieties. On my first night there, we supped on grilled butternut squash, fresh peas, and potatoes from the garden.
My friends also raise chickens exchanging kitchen scraps for eggs. They've worked hard keeping their flock replenished with younger stock, but I had no idea how frequent roosters can hatch over hens. Needless to say they often have a few extra bachelors hanging around. The rooster above, a black australorp, is a real sweetie, no need to keep an eye on him while passing through the chicken yard, which also doubles as a small fruit orchard. The chickens, below, lavender orpingtons, help to keep the weeds down. I squealed when I saw the beautiful shade of grey they were.
Stay tuned for more on the wildlife aspects of this amazing place.
Posted in friends, holiday, Mo' Funk Designs, summer | Tagged best friend, black australorp, chickens, farm, friends, garden, lavender orpington, rooster, summer | 4 Responses
By Mo on July 7, 2013
It's the summer and I've been a bit busy with family, but today I felt the need for a light asian flavoured salad. I saw a version of this delicious salad on one of the many cooking shows I watch. When I did a bit of research I found several versions. Some called is lab gai, some laab, some larb. Some said it was a Thai recipe & some said it was from Laos. Traditionally is is made with ground pork and a lot more chili. Mine is a combination of them all.
My version is made with ground turkey, sautéed with ginger and garlic. While that was cooking, I made a dressing with 1 T fish sauce, 1 T sweet chili sauce, and 1/4 c lime juice. After tasting I added 1 T brown sugar and a splash of soy sauce and more lime juice. When the turkey was nearly done I added the dressing to finish it all up. The salad is a combination of grated carrot, red cabbage and some bagged broccoli slaw I needed to use up. I also added red onion, I soaked in lime juice to mellow them a bit (a trick I learned from Nigella Lawson). Garnishes included cilantro, mint, chopped peanuts, and scallion. We used iceberg lettuce for wraps, but you could also chop up some lettuce for a tossed salad. One recipe I found suggested pouring the turkey mix over steamed jasmine rice. I imagine you could do a sort of stir fry with the vegetables and meat. We really enjoyed the salad. I decided not to write a more formal style recipe as I feel this salad is really open to your own favorite combinations. I hope you enjoy trying lab gai.
What are your favorite salads for a hot summer day?
PS: My cousin informs me it's technically laab gai gnueng. Thanks Glenn!
Posted in food, Mo' Funk Designs, summer, yumm | Tagged asian, food, laab gai gnueng, lab gai, larb, salad, summer, weekend lunch, yumm | Leave a response